16 Day Complete Top End Safari in Style

15 Nights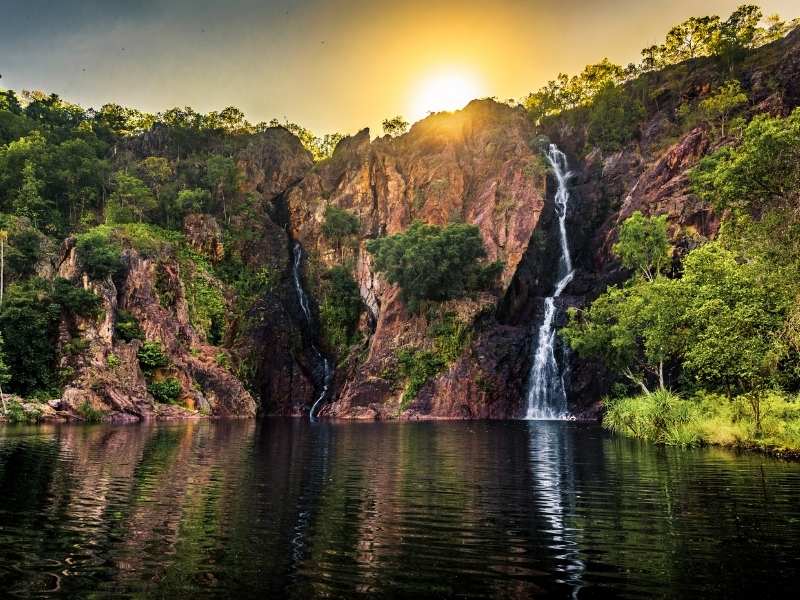 Duration:

15 Nights

Travel Dates:

06/08/22 to 21/08/22
From
AU$9,750
Price per person
Package Details
Overview
Join Anthony from Anthony Smith Travel on this small group (maximum 18 people) in-depth bespoke tour of Australia's Top End. This 16 Day Tour will delve in to Australia's WW2 history, as well as immerse you in the indigenous culture along with experiencing the influence of over 60 nationalities that now call Darwin home, making it the most multi-cultural city in Australia. Experience the stunning natural beauty and wildlife of the Top End's most famous National Parks & attractions, along with some lesser known hidden gems.
Details
15 Nights 3 to 4 Star Accommodation
15 Breakfasts, 5 Lunches and 10 Dinners
Anthony Smith Travel Face Mask, Drink Bottle & Souvenir Photo Slate Clock
Over 24 included sightseeing activities & experiences –

Charles Darwin Sunset Dinner Cruise
Private Guided Touring of Kakadu hidden gems
Guluyambi River Cruise
Spectacular Jumping Crocodile Cruise
Sunset Fish & Chips Cruise
Guided Darwin City Tour
Aviation Museum
Museum & Art Gallery of the Northern Territory
Private Coach to and from Mindil Beach Sunset Markets
Darwin Hop On Hop Off Bus Pass
Crocosauras Cove Entry
Private Guided Tiwi Islands Full Day Tour
Guided WW2 Tour
Guided WW2 Bombers Cruise
Turtle Tracks Tour
Territory Wildlife Park
Matt Wright Top End Safari Camp
Private Guided Touring Cox Peninsula WW2 sites of interest
Private Guided Touring Litchfield National Park hidden gems
Cutta Cutta Caves Guided Tour
Nabilil Dreaming Sunset Dinner Cruise
Private Guided Touring Nitmiluk National Park hidden gems
Timeless Land Three Gorge Tour
Gourmet Dinner Tour
Inclusions
Saturday August 6
Upon arrival your group will be greeted by a private mini coach to transfer you to the Adina Waterfront Hotel in Darwin.
Enjoy some free time before heading off to the Sunset Dinner Cruise.
Charles Darwin Sunset Dinner Cruise
The Sunset Cruise aboard the 'Charles Darwin' takes in full air-conditioned comfort. Guests also have access to the Sun Deck (Third, top deck) where the best views of Darwin's famous sunset are experienced. This two & half hour cruise includes a great commentary on the harbour and Darwin's great history. There is a licensed bar on board with great priced drinks and snacks to enjoy.
Inclusions: arrival private coach transfer, Charles Darwin Sunset Dinner Cruise
Meals: dinner (Charles Darwin Sunset Dinner Cruise)
Accommodation: double / twin share Studio apartment Adina Waterfront Apartments Darwin
Sunday August 7
After breakfast head out for the Darwin City Sights  & Jumping Crocs Tour
Darwin is Australia's only tropical capital city and is the largest city in the Northern Territory. It is a former frontier outpost and the gateway to Kakadu National Park. Darwin is treasured country to its traditional owners, the Larrakia people, who are prominent and active members of the local community. A multicultural city, it boasts a population made up of people from more than 60 nationalities and 70 different ethnic backgrounds.
Darwin Aviation Museum – Learn about Darwin's aviation history.
B-52 Bomber – See one, on permanent loan from the United States Air Force, among 19 aircraft on display.
Air-raid on Darwin – View some rare amateur footage of this and original footage from Japanese archives.
Museum and Art Gallery of the Northern Territory – There's time here to explore.
Aboriginal art – View the largest permanent display of Aboriginal in Australia here.
Darwin Botanic Gardens – Learn about the gardens' natural and cultural history. One of the few botanic gardens in the world that has marine and estuarine plants naturally in its grounds, and see unique exotic plants and local wildlife.
Tour Darwin City – Take in the must see sights.
Adelaide River Cruise – Spot over 1,600 crocodiles.
Watch – These creatures leap out of the water for a taste of buffalo meat.
Crocodile Biology – Learn about this, their territorial habits and their value to the eco system.
Inclusions: Darwin City Tour & Spectacular Jumping Crocodile Cruise
Meals: breakfast
Accommodation: double / twin share Studio apartment Adina Waterfront Apartments Darwin
Monday August 8
After breakfast, get picked-up by Private Coach & Guide to head out to Kakadu National Park.
Kakadu is a living cultural landscape. It has been home to Aboriginal people for more than 65,000 years.
Ours is the oldest living culture on earth. We are the largest national park in Australia, covering almost 20,000 square kilometres. That's nearly half the size of Switzerland!
The park is dual World Heritage-listed for its outstanding natural and cultural values.
Kakadu is Aboriginal land. Our people have kept it healthy for thousands of years. Today, we work hand-in-hand with Parks Australia to manage Kakadu, using a mix of traditional ways and modern science.
Since the late 1970s Kakadu's traditional owners have leased their land to the Director of National Parks to be jointly managed as a national park. Joint management is about Bininj/Mungguy and Parks Australia working together, solving problems, sharing decision making and exchanging knowledge, skills and information.
Stop at Fogg Dam Nature Reserve
It is one of the most accessible places in the Northern Territory (NT) to experience spectacular wetlands and wildlife throughout the year. If you're a keen bird watcher, there are often a variety of birds around the dam wall.
It is also a haven for water pythons, freshwater turtles and other wildlife.
Fogg Dam has one of the world's highest biomass of predator (water pythons) to prey (dusky rats) ratio. They make their homes in the cracked mud during the hot Dry Season from August to October, while waiting for the rains.
Fogg Dam is located on the traditional lands of the Limilngan-Wulna people, who are active in the reserve's management.
Stop at Windows of the Wetland (if open)
There you will get an understanding of the landscapes you are about to see. The top floor of the centre has 270 degree views of the wetlands below, which during the Wet Season can be complete with a lightning show. For half of the year the wetlands are flooded, while in the Dry Season they are baked and dried out. The region is one of great contrast. Interactive displays will tell you about seasonal changes, the ecological processes within the wetlands and the problems of feral animals and weeds. There is detailed information on wildlife and local Aboriginal and European history.
Refreshment stop at Corroboree Park Tavern (own expense)
Stop at Mamukala Wetlands for bird viewing of wetland species and migratory birds. It is here that we will enjoy a picnic lunch. Visit and take shelter in the bird hide to watch bird life undisturbed across the waters of Mamukala wetlands. Mamukala is beautiful all year, an observation platform allows you to view the birdlife and a mural illustrates the seasonal changes that occur through the year.
There is a three kilometre walk adjacent to the wetlands, allowing you to spot up close egrets, darters, herons and forest kingfishers. Paperbark trees and Pandanus line the wetland perimeter, and keep an eye out for the pretty water lilies in various colours. The Gu-ngarre Walk is only accessible during the drier months.
Continue on to enjoy a Guluyambi Cultural Cruise
The Guluyambi Cultural Cruise is a unique boat tour on Kakadu's scenically spectacular East Alligator River.
Take in the wonderful pristine wilderness of this World Heritage landscape as you leisurely cruise up stream. An Aboriginal guide provides guests with an insight into their culture, local mythology, the river's abundant food chain, traditional uses for many plants & animals as well as bush survival skills.
Disembark on the Arnhem Land side of the river for a display of traditional hunting & gathering implements. Limited to just 25 guests, the Cruise ensures an intimate & personalised cultural experience.
Experienced Aboriginal cultural guides
Breathtaking East Alligator River & escarpment scenery
Traditional survival skills
Small groups – personal experience
100% Aboriginal owned & operated
Count the crocodiles
Visit Ubirr rock art site with walk up to views over Nadab Floodplain
The walk passes several breathtaking Aboriginal art sites and leads up to a stunning lookout over the Nadab floodplain.
Rock art – Traditionally, people camped beneath Ubirr's cool rocky shelters and used the plants and animals of the nearby floodplain and East Alligator River for food, tools and medicine. The smooth stone surfaces were perfect for painting on. Much of the art here features fish, turtles, goanna and other important food animals. At the main gallery, a painting of a thylacine (the Tasmanian tiger, which became extinct on the mainland more than two thousand years ago) is a rare treat, and gives an idea of the age of some of this art.
Ubirr's rock art is considered among the best in the world, with fine examples of x-ray painting as well as contact art from the time when Indigenous people first encountered Europeans. Stories about behaviour and law are told at the Mabuyu, Narmarrkan Sisters and Rainbow Serpent paintings.
Marvel at the intricate layers of paintings and come away filled with wonder.
Lookout – Sunset is a great time to visit. Gaze out over the floodplains, woodlands and dark ribbons of rainforest, and let the spirit and serenity of Kakadu envelop you.
During kudjewg (monsoon season), dramatic storms roll in and lightning shows illuminate the skyline.
As the sun sets, the birds begin their evening song, the Wilkins rock wallaby darts about in the shadows of the escarpment getting ready for the night and the blue-winged kookaburras call out to tell everyone they are home for the evening. Locals refer to this as 'the call of Kakadu'.
Back to Cooinda Lodge for a 3 course dinner
The village style property is located beneath a canopy of trees beside Yellow Water Billabong, home to world-renowned Yellow Water Cruises, where crocodiles and birds are seen on the flood plain amongst Paperbark, Pandanus and Fresh Water Mangroves.
With its oasis style atmosphere, Cooinda Lodge offers an inviting shaded swimming pool, bistro-style dining, bars, petrol station and a store that offers locally-made crafts as well a wide range of essentials for touring.
Inclusions: Guide, Private Touring Vehicle,Kakadu Park Fees, Guluyambi River Cruise
Meals: breakfast, picnic lunch & 3 course dinner
Accommodation: double / twin standard room Cooinda Lodge
Tuesday August 9
After breakfast head out for a guided tour of Nourlangie Rock and Nawurlandja Lookout Walk.
Clambering up this short, steep rock slope will take your breath away!
Nawurlandja lookout offers world-class views across Anbangbang Billabong to Burrungkuy (Nourlangie) and the Arnhem Land escarpment.
The vistas are impressive all year round. Whether you venture out first thing in the morning or late in the afternoon, you won't be disappointed. This peaceful spot is a great place to sit and take in the scenery at sunset or watch dramatic storms roll in during the tropical summer.
Once you reach the top of the walk, look out across the sea of savanna woodlands to where they meet the sheer cliff face of the Arnhem Land escarpment. The endless view is a fantastic taste of the grand scale that is Kakadu.
We will stop along the way to enjoy a picnic lunch.
Continue the adventure to Maguk Waterfall and plunge pool
Spot the spangled drongos and rainbow pitas in the rainforest, swim with the black bream in the plunge pool and marvel at the majestic endemic Anbinik trees along the rocky slopes.
Watch sunset over Yellow Waters
Head back to Cooinda Lodge to enjoy a 3 course dinner
Inclusions: Guide, Private Touring Vehicle for the day
Meals: breakfast, picnic lunch & 3 course dinner
Accommodation: double / twin standard room Cooinda Lodge
Wednesday August 10
After breakfast, we check out and continue to Warradjan Aboriginal Cultural Centre
Developed by the Aboriginal traditional owners of Kakadu, Warradjan is located just 1km from Cooinda Lodge Kakadu and should be a 'must see' for all visitors to the region. The displays include artefacts that illustrate the stories that the traditional owners wish to share with visitors. The Centre mixes contemporary techniques – such as videos – to cover various subjects, ranging from personal histories to bush tucker. The gallery shop sells a range of arts and crafts including traditional Didgeridoos local artwork, books and cards.
We will stop into the Bark Hut Inn for a lunch (own expense)
A stop at Berry Springs for a swim stop on the way back to Darwin.
Berry Springs is one of the most beautiful parks to cool off and relax in close to Darwin.
It has a great shaded picnic and barbeque areas close to clear swimming pools surrounded by trees and aquatic life.
The park also has remnants of WW II history, where more than 100,000 armed forces personnel were based in the area.
Drop off Adina Waterfront Darwin
Head down to Stokes Hill Wharf to enjoy the evening together on the Sunset Fish & Chips Cruise
Sunset Fish & Chips Cruise
Hold onto your hats! All aboard for a sunset cruise on Darwin Harbour! Leaving Stokes Hill Wharf with a complementary refreshment in your hand, we'll potter out from Kitchener Bay stopping to draw your attention to the magnificent expanse of Darwin Harbour and its fascinating landmarks. And then, hold onto your hats!
Delicious fish & chips – We'll leave other boats in our wake as we take you up close to the sights and sounds of the Darwin city seascape. On arrival at Cullen Bay you'll be treated to stories of this part of town while the crew picks up your dinner of deliciously fresh, local, wild caught fish with chips from either award-winning La Beach restaurant.
Beautiful Darwin sunset on the harbour – As you eat your dinner on board, we'll use our local knowledge to take you to the best place to enjoy the delightfully warm breeze, exquisite tropical sunset and harbour full of intrigue. The tide, wind, weather and season will be considered as the Captain turns the boat in a particular direction.
You may experience a walk on the Fannie Bay sandbar or enjoy your meal amongst a pod of frolicking dolphins or dugong. Sometimes we may visit the Sadgroves bird sanctuary and other times we'll just cruise around the glistening harbour, taking in nature's extraordinarily-coloured sky at this time of day – it's like an artwork!
A real Top End Experience – This Darwin sunset cruise is an adventure where you will see the harbour at the best time of the day, hear the stories and music of the Top End of Australia and experience local Darwin hospitality.
Sea Darwin's Sunset Fish'n Chips was awarded the 2015 NT Brolga award for Excellence in Food Tourism. It is the perfect end to the day for those who have an interest in a real Top End experience. A fast boat ride in the calm of the evening will get you back to the hub bub of Stokes Hill Wharf.
Inclusions: Guided touring, Spectacular Jumping Crocodile Cruise & Sunset Fish & Chips Dinner Cruise
Meals: breakfast & dinner (sunset fish & chips dinner cruise)
Accommodation: double / twin studio apartment Adina Waterfront Apartments
Thursday August 11
After breakfast get pick up for the WW2 Tour & Cruise
Darwin in World War II
In February 1942, Darwin sat at the top of Australia as a small insignificant port and forgotten military base. But all that changed on the day of the 19th, where the Japanese attacked Australia with two successive air raids killing at least 243 people. The city was destroyed, along with many allied aircraft and ships. Today Darwin has recovered to be a vibrant city, but there are still scars to share with the world.
A half day experience
Australia's Frontline: WWII Bombing of Darwin tour is a half day experience that shows you these scars, taking you back in time to that fateful day when Australia's innocence was lost. This half day tour is the complete Bombing of Darwin package, including both a land based tour by air conditioned vehicle, and a one hour harbour cruise.
Using local amateur historians as your guides and real time commentary, you will spend the morning hearing the stories of the Darwin's front line activity, starting with the WWII history and the Bombing of Darwin and tracing developments up to the modern day. Visit the sites that were hit by the Japanese air raids. Head out to Charles Darwin National Park to see bunkers and other WWII relics before visiting the acclaimed Defence of Darwin museum as well as the East Point Military precinct and the Myilly Point Heritage precinct.
Bombing of Darwin Cruise
The WWII Bombing of Darwin tour is complete with the one hour Bombing of Darwin cruise* on Darwin Harbour which covers the historic Stokes Hill and Fort Hill wharf areas. the Pearling Luggers, wreck sites of the SS Neptuna and USS Peary, the old flying boat base at Doctors Gully and HMAS Coonawarra before arriving at Cullen Bay where you will see the gun emplacements from the water.
Afternoon to yourself to visit Crocosauras Cove for an experience.
CROCOSAURUS COVE
Crocosaurus Cove, located in the heart of Darwin city, allows visitors a unique, up close and personal view of Australia's iconic Saltwater Crocodiles.
Bringing together some of the largest Saltwater Crocodiles in Australia & boasting the World's largest display of Australian reptiles, Crocosaurus Cove is a must see attraction when visiting Darwin and the Top End.
Bring your bathers and "Swim with the Crocs" jump on our "Fishing for Crocs" platform and smile for the camera while holding a baby Saltwater Crocodile. Check out the Barramundi, Archer Fish & Whiprays in our 200,000 litre fresh water aquarium and don't forget our upstairs Top End Turtle enclosure.
Crocosaurus Cove is also home to the famous, Cage of Death. The only cage in the world that brings you face to face with some of the largest Saltwater Crocodiles in captivity. Go it alone or grab a friend – this is a once in a lifetime opportunity to share the same environment of one of the world's deadliest predators.
All of this and more awaits you at Darwin's ultimate urban wildlife experience…right in the heart of Mitchell Street, Darwin City.
Later that day get collected by Private Mini Coach for your return trip to Mindil Beach Sunset Market
Darwin's Biggest & Best Market!
Mindil Beach Sunset Market is the heart of Darwin's cultural melting pot and truly epitomises the multicultural nature of our city! Darwin's largest market running along the foreshore of Mindil Beach, famous for its stunning sunset over the Timor Sea.
Mindil Beach Sunset Market began in 1987 when four people's dream of bringing a taste of Southeast Asia's night market to Australian shores came to life. From humble beginnings, today the Market sees the congregation of over 200 unique stalls, ranging from food stalls offering incredible local and international cuisine to an array of arts, crafts and services stalls.
Bursting with life from every corner, the Market features an array of amazing local and travelling live musicians, street performers, dance groups and buskers, from all walks of life and performing arts genres. The smells, sights and sounds are guaranteed to provide you with an unforgettable one-of-kind experience. This combination of amazing food, arts and culture, set to the backdrop of the spectacular sunset, creates an electric atmosphere.
So come along and soak up the atmosphere and flavours of the iconic Mindil Beach Sunset Market to experience firsthand what all the fuss is about!
Inclusions: WW2 Tour & Cruise & Return Private Coach Transfers to Mindil Beach Sunset Markets
Meals: breakfast
Accommodation: double / twin studio apartment Adina Waterfront Apartments
Friday August 12
After Breakfast, get collected by Private Coach & Guide for a full day Private Tiwi Islands Tour
Ferry transfer across to Tiwi Islands for a private guided tour of Tiwi Islands
Feel your cheeks hurt from so much smiling as you discover the beautiful Tiwi Islands, the 'Island of Smiles'.
Take a trip across the water from Darwin to find a unique haven. With a thriving Aboriginal arts culture, fishing lodges, coastal landscapes with breathtaking sunsets, the Tiwi Islands promises to be a destination like no other.
The Tiwi Islands comprise of two main islands – Bathurst and Melville, which are 80 kilometres north of Darwin. Most of the residents are of Aboriginal descent and you'll meet some of them on cultural and wildlife tours.
The people on Tiwi Islands are famous for their traditional lifestyle, stunning artworks, vibrant fabrics and textiles, plus an exuberant passion for football. Take a day tour from Darwin to the Tiwi Islands to find out why it's nicknamed the 'Island of Smiles'.
Traditional Welcome and smoking ceremony
Visit the famous Tiwi arts and crafts centres
Learn the history at Patakijiyali museum
Lunch purchased locally and eaten at the Madonna of Tiwi Shrine
Ferry transfer back to Cullen Bay
Drop off at Adina Waterfront Darwin
Inclusions: Pick up & Drop off Private Guided Tour to the Tiwi Islands
Meals: breakfast
Accommodation: double / twin studio apartment at Adina Waterfront Apartments
Saturday August 13
After breakfast enjoy a free day exploring Darwin – Use your Hop on Hop Off Pass to self explore Darwin.
Darwin is Australia's only tropical capital city and is the largest city in the Northern Territory. It is a former frontier outpost and the gateway to Kakadu National Park. Darwin is treasured country to its traditional owners, the Larrakia people, who are prominent and active members of the local community. A multicultural city, it boasts a population made up of people from more than 60 nationalities and 70 different ethnic backgrounds.
DARWIN BIG BUS
24-hour Hop On Hop Off pass on the Darwin Big Bus which can be used on separate days within a 30 day period.
Experience the celebrated scenery, landmarks and attractions of Darwin. Don't miss a thing aboard our open top Double Decker tour of Darwin completed with an informative and entertaining commentary. Your 24-hour pass will commence when you exchange your voucher with an Explorer driver or street staff member at any of our stops and will be valid till the same time the following day.
Enjoy the evening with Turtle Tracks Tour
Turtle Tracks
Turtle Tracks is a sunset odyssey for those with a spirit of adventure, and for those who want to visit the Bare Sand Island turtles, in their world and on their terms.
The journey
Leaving Stokes Hill Wharf on one of our fast boats at 4.00 pm and on a date especially picked around the lunar cycle, your cobwebs will be blown away as Darwin Harbour and the Darwin cityscape fade into the distance. With the warm breeze on your face and the smell of salt in the air, you will loose yourself in your thoughts as you skim over the tropical, turquoise water of the Timor Sea. The Captain and crew will always have their eyes peeled for marine mammals and reptiles, as you journey past historic Charles Point Lighthouse into Bynoe Harbour, arriving at remote Njulbitjlk (Bare Sand Island) in time for the sun set.
Bare Sand Island
With the permission of the Kenbi Traditional Owners, we will take you ashore to explore the island's beach with our "Team Turtle". With their marine science backgrounds and their passion for sea turtles, you will be treated to first hand knowledge about the Flatback and Olive Ridley turtles, who visit the island to nest.
Day turns to night
As day turns to night, you will also hear about the island's unique war history and its importance to the Kenbi Traditional Owners. The Bare Sand Island sunset is something to behold, and at this point we take time to quietly experience the end of the day on this special little island at the Top of Australia. As the sun sets we'll all keep scanning the shore line for the first head to pop up from the sea.
Turtle watching
The date you travel on Turtle Tracks will be especially chosen with tide and moon conditions aligned for nesting turtles at sunset. Nature dictates on this tour, and you might be lucky to have a nesting turtle on the island when we arrive, or one plod up the beach shortly after, however there might be times when the turtles come up later after the sun has set.
Note that nesting turtles or hatchlings cannot be guaranteed on any tour, although in 2016 100% of our guests experienced a turtle encounter.
Leave it up to nature
The timing of your turtle watching, and your dinner, and your departure back to Darwin, is entirely up to the turtles! Sometimes you'll get really lucky and you might come across hatchlings making their journey from their nest to the sea. Whatever the turtle timing is, we guarantee that this tour will give you memories to last a lifetime.
Trained and expert guides
Turtle viewing on this tour is guided. Our guides are trained and have permits in accordance with Parks and Wildlife Commission of the Northern Territory's Marine Turtle Watching Policy
Inclusions: Turtle Tracks Tour at night
Meals: breakfast & dinner (Turtle Tracks Tour)
Accommodation: double / twin studio apartment Adina Waterfront Apartments
Sunday August 14
After breakfast meet your guide and board the coach to The Territory Wildlife Park,
Territory Wildlife Park including morning tea
At the Territory Wildlife Park, not only do you see wildlife up-close in their natural habitats, you meet them walking through tree top aviaries, strolling around a natural lagoon and even get to interact with them during daily presentations.
You stroll beneath the surface in our walk-through aquarium and meet some of the Top End's most amazing aquatic life. You meet, nose to nose, with our giant Saltwater croc. It's the closest you'll ever get to a salty without risking a scratch!
Our experienced team love sharing their knowledge of the wildlife and the habitats in their care. It's what our people are passionate about. The more you ask, the happier they are to share.
Continue on to the overnight Top End Safari Camp Experience
Top End Safari Camp Experience
Upon arrival guests will commence welcome briefs and an introduction to the Top End Safari Camp in all it's glory. Get ready for the Ultimate experience in the wild.
Guests will commence the tour by travelling through the safari camp to the "Airboat Landing" to board a V8 Supercharged airboat. Jump aboard for an exhilarating Airboat ride through the wetlands and rainforest with wild crocodile interactions. Guests will then jump aboard "Cyclone Creek," our cruising vessel, also known as the "party boat" where we will take them cruising along Sweets Lagoon and serve a gourmet BBQ lunch.
**Note the group will be split into 2 groups of 10 and rotated between the two different boat tours**
Following the cruise, we will introduce guests to Matt's 13 rescue crocodiles and conduct some exhilarating croc feeding with a couple of our largest residents.
After grabbing some happy snaps guests will be transferred to the Star Deck where they will have the opportunity to experience a scenic helicopter flight. The flight will take guests around the Camp, providing a birds eye view of the camp, the map of Australia, the Finniss River and Twin Hill Stations as well as the beautiful wildlife and water ways throughout the area.
Dinner will be served at 19:30 after guests watch a beautiful sunset and check into the Lotus Belle tents for an evening of glamping luxury. The night is then theirs to have a drink by the fire, make some smores or simply star gaze and enjoy the serenity.
After a night in glamping luxury the morning will commence at 08:00 with breakfast followed by departure at 10:00.
Inclusions: private guided activities at camp
Meals: breakfast, morning tea, bbq lunch & dinner
Accommodation: Top End Safari Camp
Monday August 15
After breakfast depart the Top End Safari Camp, head to Cox Peninsula
Visit the WW2 Gun Placement and B-24J Wreck site
WW2 Gun Placement
The site comprises remnants of two WWII Gun Emplacements and associated infrastructure including a small control building immediately adjacent to the gun emplacements and a small concrete structure some distance away.
The guns are no longer extant.
Conceived as part of the defences of Darwin Harbour in early 1941, the 6-inch gun emplacements of the Wagait Battery were planned as an adjunct to the West Point Battery. It was a time when the threat posed by the Japanese in the Pacific was at its highest and when war in the Pacific was likely. Construction commenced in late 1941 however the Japanese raids of 19 February 1942 saw work postponed for some months.
B-24J Wreck site
The B-24J Liberator Bomber was developed and produced in response to a much needed requirement for the war effort in Europe and the Pacific.
It was one of the most successful heavy bomber designs used during World War II and was used in all theatres of the war with great success. The remains of the wreck of this B-24J are significant as a tangible reminder of the air war conducted against the Japanese during World War II from Australian soil. It is also a tangible link to the association the 380th Bomb Group had in Australia and the specific role that it played in the war. This wreck is also representative of the aircraft flown by the USAF and RAAF crews and of the personal sacrifice that was made by these men. The significance of this site has been acknowledged by ex-servicemen and the community of the Northern Territory with the installation of a plaque and interpretive signage at the site.
Lunch purchased locally in local township before continuing on to Crab Claw Island Resort
Crab Claw Island is a magnificent part of the Northern Territory located on the Cox Peninsula. Truly unique, it is an island accessible by road except on extreme high tides. Crab Claw Island is home to Crab Claw Island Resort – a complex of elevated cabins overlooking a white sandy beach connected by walkways through the trees, refreshing swimming pools, an open air restaurant and bar with views across the harbour, shady camp sites, private boat ramp to access the fabulous fishing, all surrounded by wildlife and pristine natural beauty.
Crab Claw caters for those who love the outdoors. You can go bushwalking around the island, hunt for monster mud crabs, go for a dip in one of the two refreshing pools or – when in season – watch the turtles lay their eggs on a nearby beach. However, Crab Claw's main attraction has got to be fishing. The island is a fishermen's dream. A popular way to spend the day is to fish until dusk, and then eat your catch. With over 30 species of fish in the harbour, including Barramundi and crab, you're spoilt for choice when baiting dinner.
Inclusions: Private Tour Guided Activities
Meals: breakfast
Accommodation: Standard Room Crab Claw Island Resort
Tuesday August 16
Free day for the group to enjoy the local activities in and around the Resort
Inclusions: –
Meals – breakfast
Accommodation: Standard Room Crab Claw Island Resort
Wednesday August 17
Full day at Litchfield National Park exploring spring fed waterfalls & rock holes,
Litchfield National Park is a must see if you're in the Top End.
It's home to several stunning waterfalls that cascade into crystal clear pools, iconic magnetic termite mounds and clusters of weathered sandstone pillars at the Lost City.
Swimming under the falls and relaxing in waterholes is a favourite pastime for visitors and locals alike.
Enjoy a BBQ lunch at Buley Rockhole
Enjoy a refreshing swim in the cascading pools of Buley Rockhole.
This popular swimming spot, in the magnificent Litchfield National Park, is a great place to wind down after exploring the park. Wade through the pools, absorb the scenic bush surrounds or sit and relax, as the cool water rolls over your shoulders.
Dinner will be included at the Lake Bennett Resort after the day's adventures in Litchfield NP
Overnight: Lake Bennett Resort
Inclusions: guided tours of park
Meals: breakfast, bbq lunch & dinner at the resort
Accommodation; Standard twin room Lake Bennett Resort
Thursday August 18
After breakfast, check out and stop by the Adelaide River War Cemetery
Adelaide River is a township lying 113kms south of Darwin, on the Stuart Highway, which is the main north–south road from Darwin to the railhead at Alice Springs. During the Second World War, Adelaide River was the headquarters of a large base and the Adelaide River War Cemetery was created especially for the burial of servicemen and women who died in this part of Australia. It was used by Australian General Hospitals 101, 107, 119, 121 and 129. After the war, the Army Graves Service moved graves from civil cemeteries, isolated sites and temporary military burial grounds, into the Adelaide River War Cemetery. These included Bagot Hospital Cemetery, Berrimah Hospital and War Cemetery, Daly Waters Civil Cemetery, Darwin Public Cemetery, Gove War Cemetery, Hughes Cemetery in Darwin, Katherine Civil and War Cemeteries, Larrimah War Cemetery, Milingimbi War Cemetery, Mt Isa War Cemetery in Queensland, where No 74 Camp Hospital once operated, South Goulburn Island Mission Cemetery and Truscott War Cemetery. Adelaide River War Cemetery was taken over by the Commonwealth War Graves Commission in September 1947 and under a formal agreement with the Australian Government, is maintained by staff of the Office of Australian War Graves. The War Cemetery adjoins the Adelaide River Civil Cemetery, in which are buried 63 civilians, including nine Post Office workers who were killed on 19 February 1942, as a result of a direct hit on the Post Office by Japanese bombs. Thirty-one Aboriginal people are among the dead who lie in that part of the cemetery. The War Cemetery is situated in savannah country about 1km from the Stuart Highway, along a short bitumen road, which runs parallel to, and 100 metres from, the Adelaide River. Within the War Cemetery the graves are set in a grassed area with low growing shrubs dotted in regular patterns among the headstones. Beyond this, there are colourful garden beds and within the boundary fence is a screen of trees and shrubs. There are 434 burials, comprising 14 airmen of the Royal Air Force, 12 unidentified men of the British Merchant Navy, one soldier of the Canadian Army, 18 sailors, 181 soldiers and 201 airmen belonging to the Australian forces, and seven men of the Australian Merchant Navy. The Adelaide River War Cemetery was entered in the Register of the National Estate in 1984.
Stop for lunch (own expense) Pine Creek
2pm Cutta Cutta Caves tour
Delve 15 metres below the surface to discover amazing limestone caves in the heart of Australia's Top End
Cutta Cutta Caves Nature Park is located 27km south of Katherine and is easily accessible from the Stuart Highway. The park covers 1499 hectares of limestone landscape, and is home to five species of bats, including the rare Ghost and Horseshoe bats. About 170 species of birds have been recorded within the park, including the Hooded Parrot and the endangered Gouldian Finch.
Tropical cave systems like those in Cutta Cutta Caves Nature Park are limited in Australia and are therefore of scientific and conservation interest and are the primary season the area has been declared an official Nature Park.
In addition to the Caves system, a Visitor Centre and kiosk, the park offers a Tropical Woodland walk, with information for visitors about the local flora and fauna. The Tropical Woodland walk begins near the carpark and enables visitors to experience the open tropical woodland. Allow 10 to 20 minutes to complete the walk
Arrive in Nitmiluk and check into Cicada Lodge
Nitmiluk
Be drawn to the spectacular sandstone country of Nitmiluk National Park and the majestic Nitmiluk (Katherine) Gorge with spectacular cliffs that glow in the changing light.
Nitmiluk National Park, just 30 kilometres north-east of Katherine, covers a vast area, including 13 impressive gorges carved from the ancient sandstone country which stretch for as far as the eye can see.
Cicada Lodge
The Jawoyn people invite you to experience the beauty of one of Australia's most spectacular destinations.
To understand and be inspired by the ancient culture of the traditional owners of the land, to explore the natural wonders of Nitmiluk Gorge, and to relax and revive in the comfort of Cicada Lodge. Yyour sanctuary from which to embrace the ancient landscapes and indigenous culture within the iconic Nitmiluk National Park.
All 18 rooms are air conditioned and feature full length doors to the private balconies, allowing our Guests the choice of opening the room to the sounds and sights of the native bush or closing them for the cool privacy of their room sanctuary.
Each room features Indigenous artwork from local artists – the rich colours blending with and complimenting the more modern design and fittings. The ancient stories within the paintings weave the modern with the traditional to create a unique blend that is Cicada Lodge.
Enjoy together our Nabilil Dreaming Sunset Dinner Cruise
Considered the jewel in the crown of the Nitmiluk experience, sit back and relax as the tranquil surroundings transport you into a spiritual world of the Jawoyn culture and history.
Discover the stories and ways of the Jawoyn people against the magnificent backdrop of the Nitmiluk Gorge, changing colour with the setting sun, and concluding with the shimmering of the stars and the moon. From group celebrations to intimate getaways, the cruise has its own chef and wait staff, so you  won't have to worry about moving from the comfort of your seat as all your food and beverage needs are taken care of.
The Tour includes a three course candlelit dinner, featuring fresh, local Australian produce cooked by one of our chefs on board, accompanied by a complimentary glass of sparkling wine.
Inclusions: Cutta Cutta Caves & Nabilil Dreaming Sunset Dinner Cruise
Meals: Breakfast, & 3 course dinner (Nabilil Dreaming Sunset Cruise)
Accommodation: Cicada Lodge
Friday August 19
After breakfast, check out and head to explore Edith Falls allowing time for swimming and hike to first pools
Picturesque waterfalls and great swimming are the well-known features of this section of Nitmiluk National Park.
There's always refreshing water to enjoy at Leliyn year-round.
Leliyn (Edith Falls) is located on the western side of the park, a 60km drive north of Katherine along the Stuart Highway. The lush, grassy campsites in a scenic bush setting make Leliyn an idyllic spot for a camping. A well-appointed kiosk provides a welcome meal for those who have just finished walking the Jatbula Trail or those just hungry after a swim.
You can enjoy swimming in the paperbark and pandanus fringed natural pool at the base of the falls most of the year, although it may be closed to swimming at times between November through to April.
The area is great for bushwalking with the 2.6km Leliyn Trail offering a challenging walk along a steep, rocky loop. There is a chance for a refreshing swim in the upper pool of Leliyn, half way around the trail. You can also enjoy the longer 9km return walk to Sweetwater Pool, a tranquil swimming hole. Leliyn (Edith Falls) is the finishing point of the 62km Jatbula Trail walking track, which begins at Nitmiluk National Park (Katherine Gorge).
Stop in Katherine for an included lunch
Visit the small pastoral town of Mataranka, made famous by the novel We of the Never Never and renowned for its sandy-bottomed thermal pool.
The small town of Mataranka, south of Katherine, is renowned for its sandy-bottomed thermal pool, pastoral history and as a welcomed stop with tourers. The area was made famous by the novel We of the Never Never – a book written about nearby Elsey Station by Jeannie Gunn.
Head back to Cicada Lodge for a 3 course dinner
Inclusions: Guided Sightseeing day
Meals: Breakfast, lunch & 3 course dinner at the lodge
Accommodation: Cicada Lodge
Saturday August 20
After breakfast, head out to enjoy the Timeless Land Three Gorge Tour.
Timeless Land Three Gorge Tour
Prepare for a truly memorable experience as you travel through time and the three gorges of Nitmiluk Gorge.
The three gorge cruise offers a relaxed experience, with expert tour guides going into depth about the history and function of the eight to ten thousand year old Indigenous rock art you will see on this journey. Once you get to the third gorge, you will have an opportunity to swim at the Lillypond seasonal waterfalls or at the shallow rock pools.  As this is a slower paced experience,  you will also have moments to chat and ask questions of our expert tour guides.
Return to Darwin (comfort stop en route at own expense) with the drop off at Adina Waterfront Darwin and enjoy some free time,
Meet for farewell Walking Gourmet Dinner Tour
Let your taste buds explore the rich culinary heritage of Darwin on our guided gourmet dinner tour. Tasting plates (degustation) feature local ingredients and Aboriginal bush foods to delight the most seasoned gourmand. Our tours stop at cultural and historic landmarks and we sample from a roster of restaurants that rotate between any of these: Snapper Rocks, Chow, Phat Mango, PepperBerry Restaurant at the Hilton, Little Miss Korea, Moorish, Hanuman and more.
Inclusions: Timeless Land Three Gorge Tour, Gourmet Dinner Tour
Meals: breakfast, Gourmet dinner tour
Accommodation: twin / double studio apartment Adina Waterfront Apartments
Sunday August 21
After breakfast, private mini coach transfer back to the airport
Inclusions; transfer
Meals: breakfast
Terms
Single supplement AUD$5,500
Refundable* Deposit AUD $250 per person at time of booking, *refunded only if minimum numbers are not met and trip does not proceed
Price correct at time of printing and subject to availability
Rates are only available when booking as a part of this private group tour
The offer is valid for sale until 28th February 2022
Full payment due 90 days prior to departure
Rates are quoted in Australian dollars
Rates are inclusive of Goods and Services Tax (GST)
A trip is guaranteed with min. 18 persons
Operator takes no responsibility for any losses, accidents, injury or any other personal misfortune, which may occur during the duration of the tour.
The above itinerary is subject to change at any time, including during the duration of the tour. Possible causes for change are unpredictable forces such as weather, local issues such as land disputes, political unrest and the like. Operator takes no responsibility for such changes, but will attempt – where possible – to offer an alternative route to make up for any losses.
Operator takes no responsibility in any delays that may lead to missed flights. In any such case the clients will be able to claim any losses through their personal travel insurance.
Comprehensive travel insurance is highly recommended including evacuation cover.
Although this is a soft adventure tour participants are advised to be in reasonable physical condition as activities such as swimming & walking are a part of the itinerary.
Each participant will be obliged to sign a legal liability disclaimer prior to commencing the tour. By joining this tour you are supporting independent, locally-owned and operated travel businesses
Operator reserves the right to cancel any departure up to 30 days before the commencement date.
This tour will be guaranteed to depart once a minimum of 18 fully paid travellers are confirmed.
Should we cancel the trip deposits will be credited or refunded in such an instance.
In case of a trip being cancelled by a Force Majeure Event results we can either offer a credit of any money paid or a refund, minus unrecoverable costs.
In the case a trip is cancelled due to a Force Majeure Event after a trip has commenced we can offer either a credit for the days remaining on the disrupted trip or a refund minus unrecoverable costs of the days remaining of the disrupted trip.
Any credit offered is not redeemable for cash.
A Force Majeure Event is an event outside of the control of Operator and includes, but is not limited to: acts of God, war, civil unrest, riots, natural disasters such as fires, cyclones, floods, earthquakes, epidemics or pandemics or any other health emergency, any other act of any government authority, which would make it dangerous or not viable for a trip to commence or continue.
Travel Enquiry