For over forty-five years John Charles Pitcher has expressed his passion for birds and the natural world through his sketches and paintings.  His success in capturing the sense of a place and likeness of his subjects reveals not only his mastery of technique but also his passion and knowledge as a naturalist.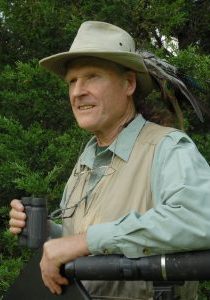 John first developed his observational and artistic skills in Alaska where he studied and painted birds for twelve years – teaching bird ID classes and guiding birding tours for the Anchorage Audubon Society.  As a guest naturalist on board the M.S. Lindblad Explorer, he shared his passion for nature and art while voyaging Alaska's coastal  waterways from southeastern Alaska to the Aleutian and Bering Sea islands.  Later he moved into the shadow of Mt. St. Helens, WA to continue his art studies and teach nature journaling to young Oregon and Washington students who visiting the Cispus Learning Center and his studio in Randle, WA.
Since moving to Dorset Vermont in 1995 John and his artist wife Sue Westin now maintain their studios and the Westin-Pitcher Gallery along the shores of the Dorset Marsh.
As a WREAF (Wilderness River Expedition Art Foundation) artist crew member, Pitcher has canoed and painted the wilderness waters of the Missinaibi River, Ontario, the George River, Quebec and the migrating caribou herds of Lake Kamestastin in northern Labrador, Canada.
Pitcher's art is collected by both museums and private collectors.  As a Signature Member of the Society of Animal Artists, Pitcher exhibits in museums and galleries throughout the country with over a dozen one-man exhibitions to his credit.
Selected Published Works include illustrations for the National Geographic Society, World Book Encyclopedia, Mill Pond Press, Good Nature Publishing Co. and The Hamilton Collection
Courtesy – https://westinpitcherart.com/