Distinguished Wildlife Artist. Bob Travers, of Fletcher, North Carolina, has international recognition and an overflowing list of awards and credits too lengthily to mention here. Suffice to say that this man has achieved a lofty position in the world of wildlife art, accomplished through a combination of his love of animals, education, and foremost his amazing talent. Known to many as one of the masters of detail, Bob has the unique ability to breath life into the paintings he creates.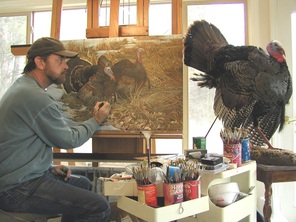 Born in 1952, it is clear in retrospect that from a young age Bob had both the talent and love of animals to lead him to this point. He began at about age two to render recognizable figures of dogs, cats, birds and other animals that shared his home. His father, a nature lover and artist in his own right, taught the young artist much and exposed him to the vast world of nature. By the age of  ten, his renderings achieved uncanny accuracy which led to competitions and favor in the eyes of the judges. He later was in the honors art program in high school where he studied sculpture as well as drawing and painting. Discouraged by his teachers from trying to pursue a career painting animals, more energy was put into likeness' of well known celebrities. This later led to a successful career in commercial art.
Receiving his formal education at the renowned Pratt Institute in New York, Bob was one of the top10 percent of applicants accepted in 1971. During his senior year when looking for work, he landed a job working for two of the top fashion designers in the country. Working with top models put him into a new world of celebrities giving him a store of wonderful memories and another insight into the world of design. At that time, he also landed a job with one of New York's' top 40 radio stations, working his way into a Music Director position, programming the music for the station and hobnobbing with celebrities. After two years of management, his artistic craving led to a job with an in-house publishing company producing trade magazines which led to cover illustrations and a promotion to art director, but, Travers wanted more.
With portfolio under arm, he signed with an agent and in 1980 began taking on clients such as TV Guide, Harlequin Books and CBS to name a few. During his tenure as a freelance illustrator, Travers now age 30, garnered the honor of being named to the top 100 list of paperback book jacket artists in the country by the famed Society of Illustrators in New York.
In 1987, Bob's list of clients was well established and all seemed in place when Bob happened across an issue of Wildlife Art News magazine and the art of Robert Bateman. Said Travers, "It was like the scales dropped from my eyes. I was looking at the type of work I had  wanted to do all my life. He had been working on a children's book on wild animals, published by Walden Books in 1987, that proved to be a success. Newly married to his wife Susan, They decided to go forward with a career change and return to his childhood passion for painting wildlife. Susan who had been the driving force of Bob's career since 1982 told him to follow his heart and they would make this dream come true together.
Exactly one year later he self published his first Limited Edition Print, and juried into his first wildlife art show. Among 150 other artists Travers proceeded to win six major awards including Peoples Choice and Artist of the Year, accompanied by a check for $1,000.
Over the years Bob has collected top honors and has earned quite a collection of ribbons and plaques along the way. He has been named the Minnesota Deer Hunters Artist of the Year twice and held the same title for the Wisconsin Timber Alliance. Proceeds from the sale of Limited Edition Prints produced from his original works have gone to both educational and reintroduction programs for theses and other organizations. While his return to his original passion for painting wildlife was less than direct, Travers acknowledges that all the work he had done to that point laid the groundwork for a successful transition to accomplished wildlife artist. His association with his publishers, Applejack Art Partners, the National Wildlife Federation and Washington Green based in England has taken his images throughout the United States, Canada, England and Australia. Through the licensing division of the company Travers images can also be found on a multitude of products such as Furniture, Greeting Cards, Posters, and Limited Edition Plate Series with such companies as the Danbury Mint.
Bob is at home in his glass enclosed studio which overlooks his horse ranch nestled in the Blue Ridge Mountains of North Carolina. Building his reputation locally, Travers originals can be found in some of the most prestigious galleries throughout the country. His lifestyle has changed dramatically since his days growing up in the suburbs of New York City, thanks to his beautiful wife Susan and their three daughters, Felicia, Ashley and Jessica who were so supportive when Bob wanted to make the move. Being surrounded by such beauty has inspired the artist to expand his talents and he has begun painting, landscapes, horses and farm scenes from the area. Commission work has also become a part of the artists busy schedule.
A Master of detail, Travers endeavors to create the illusion of absolute realism. Creating a very detailed pencil sketch enables him to work out potential design problems before laying in the paint. Working one on one with the animals he paints, he can often be found in enclosures with such predators as wolves and cougar. This along with his photographing, video taping and life studies gives the artist a sense of perspective and understanding of the various movements and moods of his subjects. Travers painting is a building process, working layer over layer of paint to create a sense of depth and realism he is most noted for. As a rule, he does not paint in the animal until the surrounding environment is nearly complete. " A successful painting depends on its believability to act as a whole, as if one were viewing a moment in time. It should tell a story and draw the viewer into that moment as though they are experiencing it first hand."From his studio nestled in the heart of the Blue Ridge Mountains , award winning landscape and wildlife artist Bob Travers brings to life images of our breathtaking mountain scenery and the wildlife that surround us.
Working one on one with the animals he paints, Bob can often be found in enclosures studying the anatomy, fur texture and movements of his subjects. Elements that will later be put to use in creating the most life like image possible.
Bob is a member of the renowned Society of Animal Artists whose annual Museum tour features the finest wildlife artists in the world today. His images have been featured on the covers of Field and Stream, Gander Mountain, Fish Fur and Game, among others.
Bob is an artist who strongly believes in supporting the environment – and not in words alone.  Proceeds from the sales of his conservation prints have gone to support organizations such as the Rocky Mountain Elk Foundation, Ducks Unlimited, the NC Wildlife Resources Commission and the United Turkey Federation as part of fundraising efforts to promote environmental awareness and educational programs.
Courtesy of http://bobtraversart.com/