British Wildlife Artist Alan M Hunt began painting at the age of eight, when his mother gave him a box of paints to occupy him as he recuperated from an illness, double pneumonia. He started off painting british garden birds from his bedroom window with his 1937 copy of the Observers Book of British Birds and Archibald Thorburn illustrations, which had fascinated him from an early age. Alan soon moved on to capture the other wildlife and the natural world around him on watercolour paper, board and canvas.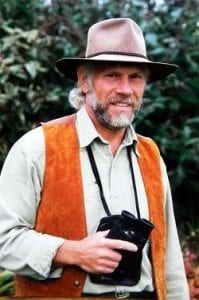 Alan first studied art at the Middlesbrough Art College now Cleveland College of Art and Design, however then decided to study zoology at Leeds College and then Bristol University.
Alan's first solo art exhibition was held in his home town of Redcar North East of England at the age of 18 and since then his original paintings have been shown in museums, galleries and public and private collections all over the world.
Alan M Hunt has received international acclaim, winning The Society of Animal Artists' USA Award of Excellence on four occasions and The Wildlife Art Society's UK Best Artist on Show for three consecutive years. Alan has been the lead artist at five exhibitions in the US and in 1998 was the first non-American to be voted on to the American Wildlife Art Hall Of Fame. In 1999, he was chosen as Artist of the Year for the Florida Wildlife Art Expo.
Alan's work has attracted huge interest at major auctions including Sotheby's, Bonhams and Christie's and continues to captivate wildlife art collectors across the World.
Alan M Hunt, now 70, no longer teaches field painting where upon he led study trips around the world. Although he fondly remembers past trips in pursuit of his wildlife reference to places such as the Masai Mara in Kenya to study the wildebeest migration which Alan says was his best ever trip to Africa, closely followed  by a trip to Rwanda to study the mountain gorillas.
Commenting on his painting, Alan says, 'As a wildlife artist and conservationist, I have grave concerns for the environment and believe it needs as much support as I can possibly give, whether financially or as a spokesman. If my son doesn't get to see half the wildlife in his lifetime that I've seen, I will feel very guilty. Rather than become a famous painter / artist I would like to be remembered as someone who tried to make people aware of the need to protect the environment, wildlife and the planet.'
Alan M Hunt is best known for the diversity of his subject matter his fascination with british garden birds provided excellent material for his first paintings. But he soon moved on to capture the natural world around him on canvas. Alan's paintings of garden birds soon developed into raptors (birds of prey) and then on to mammals of all shapes and sizes.
Courtesy – www.alanmhunt.com