Despite it's distance from other Australian capital cities, Darwin is a vibrant multi-cultural destination with so much more to offer than just being the gateway to Kakadu National Park, Litchfield National Park, Katherine Gorge, the Tiwi Islands & Arnhem Land.
Having a tropical Savannah climate means Darwin has a distinct wet and dry season, and boasts a year round average temperature in the mid to low 30°C, with the best time to visit being the Dry Season from roughly May through to September when the humidity is generally less than 30%.
Darwin has a rich indigenous, colonial,  aviation and World War 2 (military) history, and having been rebuilt four times (thanks to three major cyclones including Tracy in 1974 and Japanese bombing raids during WW2) the city has an eclectic mix of architecture. Darwin and it's surrounding suburbs host an array of museums, wildlife attractions, markets, parks and recreational facilities, as well as a diverse range of pubs, clubs, bars, restaurants & cafes.
Here are 6 bars/restaurants for you to checkout on your next visit to Darwin (in no particular order except pub crawl route from the Waterfront to Mitchell St):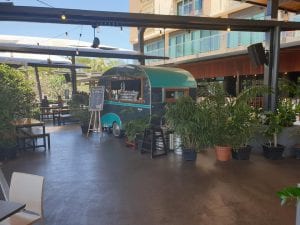 Located on Darwin's Waterfront, The Precinct is a must for any discerning craft beer enthusiast, boasting over 40 craft beers & ciders on tap and 100's more in stubbies, there is surely something for all tastes. Open from 10am till late 7 days a week, The Precinct has multiple indoor & outdoor seating areas, and offers regular weekly entertainment such as live sports & music, as well as daily meal specials.
With views over the Waterfront, their Beer Garden is the perfect place to kick back & watch the world go by as you enjoy lunch, dinner or just a few drinks with friends. The Precinct offers lunch, afternoon & dinner menus utilising local ingredients to give a modern take and contemporary twist on traditional pub food. Be sure to try their Signature Pork Knuckle and for a taste of the Top End, you can't go past the NT Buffalo Burger.
Fiddlers Green brings the old style warmth and atmosphere of any Irish Pub to Darwin's Waterfront, open 7 days a week for breakfast, lunch & dinner, I am sure you will find yourself here at least once on your visit to Darwin. Sit back & relax indoors or outdoors with a traditional Irish Pint of Guinness or Kilkenny, and if they're not to your liking, they also have a wide range of tap/bottled beers, spirits, wines and cocktails.
Fiddlers Green pride themselves on delivering prime steak, seafood and traditional pub fare. Whether you are starting your day with breakfast, ending the day with dinner or looking for lunch or a quick snack as you explore this vibrant city, Fiddlers Green has you covered. In addition to their extensive menus they also offer daily meal specials and $15 lunch specials, there is truly something to suite all tastes, appetites & budgets.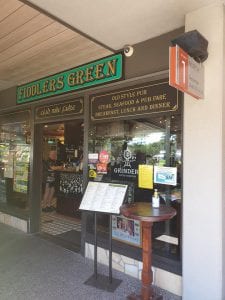 Known locally as The Cav, it is a mere 6 minute walk from Darwin's most famous pub street, Mitchell Street and 3 minutes from Smith Street Mall, making it the perfect location to escape the crowds of other bars or to have a break from shopping. Open 7 days a week, the cafe serves coffee &/or breakfast every morning, with the indoor & outdoor bars offering lunch, afternoon and dinner menus. Along with their daily lunch specials, weekly meal promotions and entertainment, you won't regret veering of the main tourist routes on your next visit to Darwin.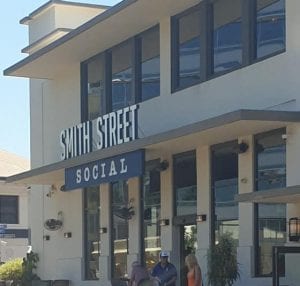 Smith Street Social is one of Darwin's newest venues, formerly Rorke's Pub, the venue occupies a landmark heritage listed building at the top of Smith Street Mall. With a sleek modern contemporary interior, it is home to one of Darwin's few "rooftop bars", however I use this term loosely as most buildings in Darwin, including this one, are not very tall and thus don't go there expecting views like you get at Vertigo or Sky Bar in Bangkok. However in saying this, it is still a great place for a few sundowners.
Open 7 days a week from midday till late, you can enjoy a range of craft beers, wines & signature cocktails in their main bar, level 1 bar or the rooftop bar. Enjoy a casual lunch or dinner and choose from their extensive range of stone-baked pizzas they offer a range of pub classics with a worldly flair.
Still affectionately known by many as Kitty's, the Hotel Darwin is your quintessential Australian Pub located at the top of Mitchell Street, featuring a sweeping veranda out the front of the spacious air-conditioned main bar, there is also a sports bar with pool tables, live sport & gaming plus a large courtyard beer garden with live music (on the weekends).
Whether you are starting out on your Darwin Pub Crawl, or finishing your evening off with a night cap, or simply looking for somewhere to escape the tropical heat, you won't go wrong at this institution of the Darwin pub scene. With a wide selection of Australian & Imported beers on tap & in stubbies, plus a selection of Aussie wines and well price cocktails, you may find it hard to make your way to the next destination.
If it is food you are looking for, then try their home made pizzas or daily meal special, or be adventurous with the NT Tasting Platter of emu, crocodile & kangaroo. Not to your liking, they also have a range of classic pub dishes with a NT twist, all at very reasonable prices.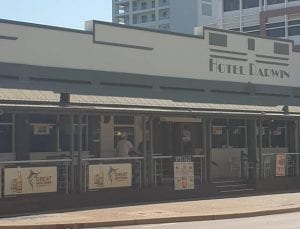 The Tap is Darwin's self-proclaimed best Alfresco Restaurant & Beer Garden, and they aren't too far from the truth. Situated in the heart of Mitchell Street it is in a prime location for relaxing with a refreshing beverage and/or delicious meal and people watching. Open 7 days a week for breakfast, lunch and dinner, their menus are as diverse as the city they live in. To accompany the variety of food is an extensive range of tap beers, Aussie wines and probably one of Darwin's largest cocktail menus, so there is surely something for all tastes and appetites. It is easy to get caught here trying the variety of offerings, my advice, if you want to experience more of Darwin than just the one place, is that you make this your final destination.